Competition announcements and results
Welcome to the ClanCast archive, the place where you can listen to all of the ClanCasts whenever you're online! If you'd like to download the ClanCasts and be alerted whenever there is a new episode, all you need is an MP3 player and a podcast client, such as iTunes. Once you've got that in place, just subscribe to our feed and you'll be able to download all the ClanCasts and listen to them whenever you want. If you're subscribing using a different client, like Google Reader, you can use the same feed link and new content will automatically be sent to you.
August 4th, 2012
Good morning everyone! Today begins the Audio Blog Tour for book one of Michelle Paver's forthcoming series, GODS AND WARRIORS! Every day this week (from today until Friday 10th August) you will be able to hear an excerpt from Chapter One of GODS AND WARRIORS on one of six blogs chosen to host an extract. Today you can listen to the first extract on http://www.wondrousreads.com/ . Make sure to tell us what you think!
On the final day (Fri 10th) we'll be making the entire first chapter available to be listened to here on The Clan – and we'll be choosing a winner for our competition! In order to be in with a chance of winning a signed poster and a signed copy of GODS AND WARRIORS, simply answer the following question and send the answer to nanuak at jointheclan.com with the subject heading 'Audio Competition'.
Question:
Gods and Warriors begins with Hylas, a 12 year old goatherd, running for his life. What name is given to the group hunting Hylas?
a)       The Black Warriors
b)       The Shadow Warriors
c)       The Dark Warriors
Check back tomorrow for the next blog on our tour, and the second extract from GODS AND WARRIORS!
May 7th, 2012
The Clan and Puffin Books, who are publishing Michelle's upcoming series, have a little competition planned for the aspiring filmmakers amongst you:
We challenge YOU to create your own video about Gods and Warriors, to spread the word far and wide and make it the biggest book of 2012!

We're looking for a video that will be both intriguing and exciting — and make people want to read Gods and Warriors as soon as it hits the stores! It can be done in any style you like; maybe a movie-style trailer, a video blog by you, or music and images inspired by what you know about the book and Michelle's writing in general. You can focus on any part of the story, but must be mainly about Gods and Warriors (rather than just Michelle or Chronicles) and be under one minute long.

To help, you can download the cover here (layered inDesign; high-res JPG) and check out these sites for useful things like:

We'll choose one winner, that we feel is the the one that best meets all the criteria above, to win one of the most exclusive, prized possessions any Clanner could want — the chance to come to a 'Superfan event' hosted by Puffin Books at their head office in London! You will meet Michelle in person, hear her talk about Gods and Warriors in detail, get free *signed* goodies and be the very first people in the world to see the Puffin Books official trailer for Gods and Warriors!
This trailer competition is open to UK residents aged 18 and under (at the time of the closing date). If you're over 18, we're really sorry that you aren't eligible for this competition. Michelle has told us that she would like the Superfan event to be open to her younger fans.
TERMS, CONDITIONS, AND RULES
The closing date for the competition is 14th June 2012.
This competition is only open to UK residents aged 18 and under (by the time of the closing date.)
There is no cash alternative to this prize.
Every Clanner who enters will receive an additional 12 Nanuaks on their profile.
The winner will be chosen by the judges (Puffin Books and The Management from The Clan). They will be contacted and must confirm their acceptance of the prize by 23:59 on 21st June 2012. If the winner can't accept the prize, a different winner will be chosen by the judges, and will have 7 days to confirm their acceptance.
There will only be one winner. The winner will receive one ticket to the Michelle Paver Superfan Event, held at 80 Strand, London on Saturday 14th July 2012. The winner must be accompanied by a parent/guardian aged 18 or over. The parent/guardian will be allowed into the event, but only Clanners will be entitled to receive free goodies and prizes.
Winners and parents/guardians will need to pay for their own travel and/or accommodation expenses.
Please email your completed trailer, your real name, your Clan username, your email address, your date of birth, and your parent/guardian's name to godsandwarriors-AT-uk-DOT-penguingroup-DOT-com. Only those trailers that are emailed to this address will be entered into the competition. All trailers will be uploaded to the Gods and Warriors trailer YouTube channel.
March 1st, 2012
"When I was ten years old, I wanted to live like the Stone Age people, and I desperately wanted a wolf. I didn't get one; but decades later, I wrote Wolf Brother. I'm honoured that Orion have chosen it as one of 20 books to celebrate their 20th Birthday. And what a gorgeous new edition this is, with that beautiful porcelain wolf raising his muzzle in mid-howl!"
– Michelle Paver, February 2012
Here's your chance to win a copy of this very special edition of Wolf Brother — simply join The Clan and take the quiz, as all Clanners who have answered all the questions correctly will be entered into a prize draw. Winners will be randomly selected, so as long as you've entered before the end of March, you're in with a chance of winning!
Competition Terms and conditions
The competition closes at 2359 hours GMT on March 31 2012.
Everyone who answers all the questions — correctly or otherwise — will be awarded 5 Nanuaks (The Clan's virtual currency).
Only one entry per Clanner will be considered for Nanuaks and the prize draw.
There are no cash alternatives to this prize.
Only entries with all the correct answers will be entered into the prize draw.
Five winners will be randomly picked in the prize draw.
Each winner will receive a copy of Wolf Brother (Orion 20th Anniversary Edition), which includes a bookplate signed by Michelle Paver.
Good luck!
Full details and a link to the quiz.
More information about Orion's 20th Anniversary editions.
January 12th, 2012
You've already seen our December Art Competition winner — and now it's January, which means it's time for our Writing Competition!
(We alternate our Art and Writing Competitions every month.)
This month, use your imaginations and write up to 1000 words on Eostra's life, thoughts, beliefs, feelings. Make sure you've joined The Clan, say 'Hello!' in our Greetings board, and then head on over to the Art/Writing Competitions board to submit your entry.
The deadline for entries is midnight (GMT) on 26th January!
November 15th, 2011
Think you know everything about the Chronicles of Ancient Darkness and The Clan? Challenge your knowledge by taking the very first of our seasonal quizzes…
The Clan Winter Quiz is free to enter and easy — well, if you spend every waking moment on The Clan, that is. The rest of you will need to search The Clan, listen to ClanCasts, and more in order to find the answers to the quiz.
Everyone who completes the full quiz will earn 5 Nanuaks each, and the first five Clanners who answer all the questions correctly will win 10 Nanuaks each. Not a bad way to spend some free time!
Want to know more? Check for more details in the Announcements thread.
November 3rd, 2011
Hearty congratulations to Nalgask, who has won the October art competition with their interpretation of the first time Torak met Wolf.
'Then the strange wolf stopped yip-and-yowling and advanced in a frightening silence….'
Nalgask has suggested the theme for November's writing competition, and it is: The point of view of a Clan Guardian.
November 2nd, 2011
Many apologies for the delay in announcing the winners of the second Virtual Museum Competition — the Palaeolithic Meal Time. There's no way I was going to interrupt Clan Week 2011!
All the entries were excellent in their own way. As we have enough top prizes to award to all entrants, I'm pleased to say that everyone who entered has won a prize. Many congratulations to Elemental Bear, Mountain Goat, Forgotten, ancient dark, wren, polecat, BlackWolff, Red Mist, and naughtywolf!
September 29th, 2011
The Grand Poobah is disappointed that there has only been one entry to the Palaeolithic Meal Time Virtual Museum Competition, with only one day to go till deadline. With another team putting their entry together and circumstances beyond their control that has delayed their submission, The Grand Poobah has decided to extend the deadline by one week, to 7 October 2011.
For details on how to enter, please visit the official announcement thread. The Grand Poobah hopes that a picture of the exclusive Clan leather wristbands, part of the prize package for the top two teams, will motivate you.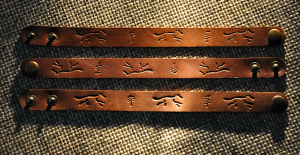 August 17th, 2011
We love the Virtual Museum, and we hope you love it too. We love it so much that we want to do it again — with a twist.
Get into teams and create an exhibit detailing the Palaeolithic meal time. What would they normally eat, and what would they use to eat it with? Who sits next to whom?
There are Nanuaks up for grabs, as well as exclusive Clan wristbands, badges, and signed photos. You've got till 30th September to submit your entry. Have fun!
August 16th, 2011
We're kicking off a new competition this month — everyone had such fun with the Scavenger Hunt that we thought, Why don't we have one more often? Well, it's pretty tiring coming up with loads of cryptic clues all year round, so here's a new, and simpler challenge.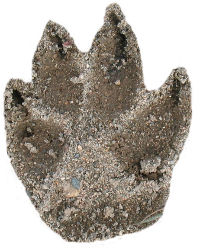 Every month, Andrea will hide this image (right) somewhere on The Clan, and the first Clanner to send her a PM with the correct location will win five (5) Nanuaks. The winner will be announced in the Competitions section of this site.
July 13th, 2011
Just two days ago, we launched The Clan Scavenger Hunt, a search through the new website to find images hidden within. Well, the Clanners rose to the challenge, and we are pleased to announce that we have our winners!
As the first Clanner to find all the images, The Bright Beast wins 100 Nanuaks, a limited edition Chronicles of Ancient Darkness poster — signed by Michelle — and a gorgeous box set of the entire Chronicles series.
Our runners-up win 50 Nanuaks apiece, and their favourite book from the Chronicles, signed and dedicated personally by Michelle. They are: GlowingWolfEyes, The Black Arrow, and coldone.
Our heartiest congratulations to the winners, and if you missed out this time, don't worry, we've got lots more competitions coming soon on jointheclan.com. All our competitions are members-only, so if you're a fan of Michelle Paver and haven't yet become a Clanner, it's a good time to get started!
July 24th, 2010

The Clan's Virtual Museum is Open For Entries!
It's going to be a long hot summer of fantastic competitions here in The Clan. Starting today, we're inviting entries for THE CLAN'S VIRTUAL MUSEUM. And on August 13th, we'll be launching our biggest ever contest –asking you to do a video remix of the hot new trailer for Michelle's forthcoming book, DARK MATTER. The prizes will be phenomenal!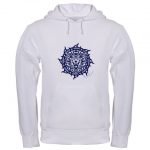 Speaking of which — we have six exclusive prizes for the best entries to The Clan's Virtual Museum — a superb sweatshirt featuring a cool new Clan design (check it out to the right!) signed by Michelle! You can't buy these anywhere! Also, there are three personally-dedicated copies of the first edition of DARK MATTER for the winners in the older category — so get busy right now!