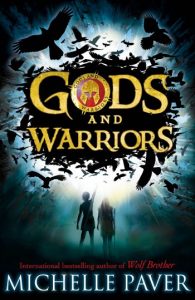 The Clan and Puffin Books, who are publishing Michelle's upcoming series, have a little competition planned for the aspiring filmmakers amongst you:
We challenge YOU to create your own video about Gods and Warriors, to spread the word far and wide and make it the biggest book of 2012!

We're looking for a video that will be both intriguing and exciting — and make people want to read Gods and Warriors as soon as it hits the stores! It can be done in any style you like; maybe a movie-style trailer, a video blog by you, or music and images inspired by what you know about the book and Michelle's writing in general. You can focus on any part of the story, but must be mainly about Gods and Warriors (rather than just Michelle or Chronicles) and be under one minute long.

To help, you can download the cover here (layered inDesign; high-res JPG) and check out these sites for useful things like:

We'll choose one winner, that we feel is the the one that best meets all the criteria above, to win one of the most exclusive, prized possessions any Clanner could want — the chance to come to a 'Superfan event' hosted by Puffin Books at their head office in London! You will meet Michelle in person, hear her talk about Gods and Warriors in detail, get free *signed* goodies and be the very first people in the world to see the Puffin Books official trailer for Gods and Warriors!
This trailer competition is open to UK residents aged 18 and under (at the time of the closing date). If you're over 18, we're really sorry that you aren't eligible for this competition. Michelle has told us that she would like the Superfan event to be open to her younger fans.
TERMS, CONDITIONS, AND RULES
The closing date for the competition is 14th June 2012.
This competition is only open to UK residents aged 18 and under (by the time of the closing date.)
There is no cash alternative to this prize.
Every Clanner who enters will receive an additional 12 Nanuaks on their profile.
The winner will be chosen by the judges (Puffin Books and The Management from The Clan). They will be contacted and must confirm their acceptance of the prize by 23:59 on 21st June 2012. If the winner can't accept the prize, a different winner will be chosen by the judges, and will have 7 days to confirm their acceptance.
There will only be one winner. The winner will receive one ticket to the Michelle Paver Superfan Event, held at 80 Strand, London on Saturday 14th July 2012. The winner must be accompanied by a parent/guardian aged 18 or over. The parent/guardian will be allowed into the event, but only Clanners will be entitled to receive free goodies and prizes.
Winners and parents/guardians will need to pay for their own travel and/or accommodation expenses.
Please email your completed trailer, your real name, your Clan username, your email address, your date of birth, and your parent/guardian's name to godsandwarriors-AT-uk-DOT-penguingroup-DOT-com. Only those trailers that are emailed to this address will be entered into the competition. All trailers will be uploaded to the Gods and Warriors trailer YouTube channel.