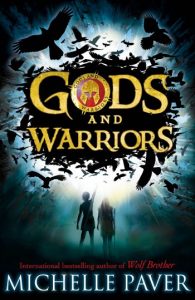 Good morning everyone! Today begins the Audio Blog Tour for book one of Michelle Paver's forthcoming series, GODS AND WARRIORS! Every day this week (from today until Friday 10th August) you will be able to hear an excerpt from Chapter One of GODS AND WARRIORS on one of six blogs chosen to host an extract. Today you can listen to the first extract on http://www.wondrousreads.com/ . Make sure to tell us what you think!
On the final day (Fri 10th) we'll be making the entire first chapter available to be listened to here on The Clan – and we'll be choosing a winner for our competition! In order to be in with a chance of winning a signed poster and a signed copy of GODS AND WARRIORS, simply answer the following question and send the answer to nanuak at jointheclan.com with the subject heading 'Audio Competition'.
Question:
Gods and Warriors begins with Hylas, a 12 year old goatherd, running for his life. What name is given to the group hunting Hylas?
a)       The Black Warriors
b)       The Shadow Warriors
c)       The Dark Warriors
Check back tomorrow for the next blog on our tour, and the second extract from GODS AND WARRIORS!