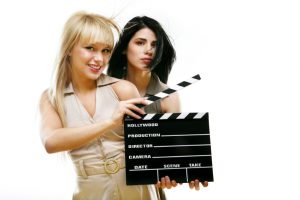 As you know, we've made a commitment to the Clan to try to make sure that you always are the first people to know about important news concerning Michelle and her work. And as many of you know, in addition to being "admin", I'm also her agent.
So I want you to be the first to know some important news about the projected Wolf Brother movie.
We sold film rights to Wolf Brother pretty soon after the first book in the series was published. There was major interest in the series and in film rights, and we decided to go with a very distinguished producer and director, Sir Ridley Scott.
Here I have to explain a little bit about how the film world works. Although Sir Ridley was the person who wanted to make the movie, the actual deal was done with Twentieth Century Fox. All went well for a time — a great script was written and a good director was appointed. Then, however, the director was offered another job – actually, directing the first Twilight movie. That was good for her, but it set our project back.
After several more years (the film business can be very slow) it began to look as if the film would be made in China. I was less than keen about this, because although I do like Chinese movies, Wolf Brother is not really a Chinese story!
Finally, we have just (yesterday) decide not to proceed with the film for the moment. This was a really tough decision, because it will inevitably disappoint a great many readers. However, both Michelle, I and indeed her publisher believe it's the right thing to do at this stage.
So… this sets us back to square one. I am still more than keen to see Wolf Brother made into a fantastic movie, and over the weeks and months ahead, I will be talking to lots of producers and directors again. And of course, I'll keep you posted here.
Keep the faith!
Admin