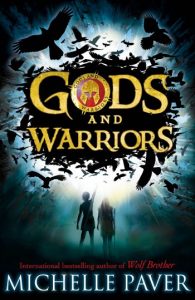 It's the 27th August and that means one thing – GODS AND WARRIORS has been released in the UK! We hope you're as excited as we are – we can't wait to hear what you think about the first in Michelle's brand new series set in the Bronze Age. If you haven't already got a copy of Gods and Warriors, you can pick up a copy through Amazon (which will ship tomorrow) or your local bookstore. Don't forget, you can also hear the entire first chapter FREE, here on The Clan.
Once you've started reading Gods and Warriors do swing by The Clan's forums and tell everyone what you thought – we'd be very interested in hearing your opinions! Also, once you're up to Chapter Four, you may be interested in a week-long competition we're going to run here on The Clan – a multiple choice quiz on the events of the first four chapters which will be going live here tonight (UK time), the Gods and Warriors Wisdom Contest!

So check back tonight for the inaugural Gods and Warriors competition, and make sure to enter – the top eight entrants will be receiving signed copies of GODS AND WARRIORS from Michelle, making them highly valuable collector's items!